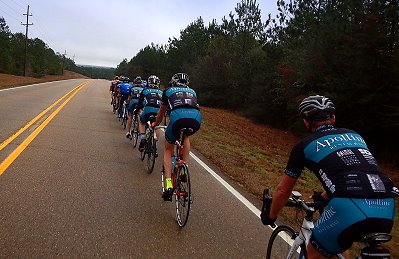 NOBC e-mail List and Facebook Group.
Who Should Come: These rides are for riders with some prior experience and sufficient fitness to be able to complete rides of about 65-80 mi. Although the overall average speeds for these rides tends to be around 19.5 - 20 mph., there will usually be significant stretches of sustained paceline riding at 22-25 mph with faster stretches in the Sprint Zones. It's OK to come even if you think you will probably get dropped on the faster sections, as long as you continue to make an effort to keep the gap from getting too big. After the first 20 miles there will be a couple of places where riders can turn back early in order to do shorter rides. The group will usually wait at intersections for dropped riders and some of the stronger riders may backtrack to pick up those riders and help pace them back to the group. The route will be available for download prior to the weekend.
More Information: For more information, contact Randy Legeai
Winter Ride Series
The New Orleans Bicycle Club's annual Winter Training Ride Series begins in January and lasts until mid-February! Group training rides will be held on the North Shore every Sunday, except when they conflict with other events. Check the email list and Facebook Group for dates and times.

When and Where: Rides will start promptly at 8:30 am on Sunday from Abita Springs Park 22049 Main Street, Abita Springs, Louisiana 70420.
How Long and How Fast: Rides will be in the 65-80 mile range, but will have shorter options for those who want to turn back early. The first 20 miles will always be at a controlled pace in the 16-20 mph range. After the turn-off for the short route, there will be two to four designated Sprint Zones of 1-3 miles, followed by brief re-grouping. The group will wait briefly at major intersections for anyone off the back but still in sight. Expect a moderate pace in the 18-24 mph range except in the Sprint Zones.
What to Bring: Be sure to bring adequate cold weather gear for these rides. Temperatures on the Northshore are often significantly colder than on the Southshore. When temperatures are below 40, suggested gear would include shoe covers, helmet cover or head covering, gloves, tights, and a couple of layers that can be easily removed or unzipped. Bring enough food and water! The rides will not always stop for food or water. There will be no support, mechanical, culinary or otherwise, on these rides, so come prepared. Stay for lunch afterward at the Abita Brewpub when the long ride returns at about 12:00 - 12:30.

NOTE: This is an unsupported ride on open roads. Riders are expected to ride responsibly and to (1) obey the rules of the road, (2) ride no more than double-file at all times, (3) wear a helmet. YOU RIDE THESE RIDES AT YOUR OWN RISK!