Keith and I hit the road at 4:30 am on Saturday for the drive up to Shreveport/ Bossier City and the Rocky Mount Stage Race. This year's event went very smoothly and there seemed to be some really good racing in all of the classes and categories. One of the neat things about this north-Louisiana race is that it attracts a good mix of riders from places like Oklahoma, Dallas, Alabama, Mississippi and Louisiana. In fact, it's much closer to Dallas than to New Orleans.
We made good time and arrived a bit ahead of schedule for the road race. The road course has a couple of significant hills and a lot of smaller ones, and can inflict a pretty good amount of damage in a short amount of time. The final mile starts with a long climb up to Rocky Mount that traditionally shatters whatever pack might be left, leaving riders to contest the final, and flatter, 200 meters in little groups of two or three.
I rode the Master 45+ race this time, along with Mark Delaney. We had a rather small field of 17 riders, but by the time we were a few miles into the race it because obvious that most of this group had come to race.
We had our new team kits today, fresh out of the plastic bags, and although they looked really good, I wish I could have run mine through the wash once because like most new clothes, it didn't breathe too well. Anyway, our road race was pretty fast and animated. David Hyde (Herring) spent some time solo off the front early in the race, and then Tom Bain (GeriAtrix) and I did the same, but everything was pulled back and when we got to the hot spot sprint, which was on the top of a fairly significant climb, Tom took the 1st place points and I took second. I don't know exactly what it is about that particular climb, but I just absolutely love it. If it continued another five miles, I'd probably love it even more. Go figure...
Halfway through the final lap David and Tim Perry (LaS'port) rolled off the front and opened a decent gap. I was a few riders back in the pack, just behind Tom, and I was starting to get nervous about it because the front of the pack did not seem to be responding. I craned my neck to try and get a good look up the road, and just as I did, I saw Tom doing the same. When I saw him slide over to the right and shift to a higher gear, I knew immediately that he was going to bridge, so I latched onto his wheel like white on rice as he hammered across the gap. Just before we caught, I came around and kept pushing the pace as we came past the two breakaway riders. Right away all four of us realized we had a good combination that could make this break work. We quickly had a nice fast rotation going and started opening the gap.
After making the last turn, there are only three or four miles left to the finish. I was hoping we could keep the rotation going all the way to the final climb, but David had other ideas of course, and attacked hard after I had taken a pull. I really had to dig deep to keep from being dropped, and of course at that point the smooth cooperative rotation pretty much came to an end. By now we could see the bottom last hill. The first part of the climb was done at a fairly smooth pace, but when we saw the 200-meter mark near the top, Tom jumped with me on his wheel. My right calf started to cramp (it's been giving me trouble for a few weeks now), so I never did stand up and try to come around Tom. I ended up 2nd to Tom at the finish and our group ended up 1:45 up on the rest of the field. I was pretty pleased with that, but my calf muscle was now really hurting where it had knotted up.
The evening time trial was at a great venue alongside the river on one of those "grooved" concrete roads. Although the road surface wasn't what you would consider "fast," the real concerns were the direct headwind (it was a one-way time trial) and the little climb near the end. On the plus side, at least for me, was the fact that it was only two miles! That's got to be one of the shortest time trials I've ever done on the road, and I was glad it was short because it would mean that I couldn't lose too much time to the fast TT guys. It was difficult to get a good warmup for the TT, since the start was in the downtown area, but to be honest, I was pretty sure I'd be firmly in 4th place by the time it was over anyway. My strategy was really simple: be sure not to start out too hard, because with only two miles there would be no time for recovery, and pull out all the stops to keep from bogging down on the final hill and run in to the finish line. The short TT was over in a spasmodic gut-wrenching flash, but I did feel like I had put in a pretty good effort and had avoided overcooking the start. However, I left feeling confident that the fast guys on the fast bikes would take 15-20 seconds out of me and that Sunday's criterium would become mainly a defense of 4th place without much chance of moving up.
So Keith, Mark, Mike Lew and I had a big and long Mexican dinner, washed down with some cold Dos Equis, while I rubbed my sore calf and listened to Mike tell stories about Central and South American racing with Michael Fraysse's training camps that involved topics like Cuban hookers, boxes of condoms, and tire boots made out of cut-up water bottles. It all made my life seem pretty boring.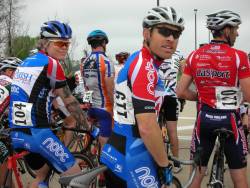 Sunday morning we headed out to the big parking lot criterium course to check out the GC results before my 9:30 am start. When I saw the results, I was rather shocked – in a good way. I had posted the 5th fastest time trial in my race and it was only eleven seconds slower than the fastest. With the finish bonus points I'd earned in the road race, that put me within just a few seconds of 2nd place. As I walked back to the car to get ready for the race I passed Mark and said "looks like I'm going to get to race today!"
Our criterium, like most of the others this day, was only 30 minutes plus two laps (they only had use of the parking lot for a limited time), so I figured it would have to be fast. There were now three riders who would be fighting for 2nd place, while the Tom Bain, the rider in first would simply need to be defensive and maybe pick up some hot spot points to be safe. Since he's an excellent sprinter, I had no doubt he would be getting a couple of time bonuses.
So the race started out pretty fast with a lot of action at the front. David Hyde hung back for the first few laps, but eventually launched a strong attack. It caught me a bit off-guard, and I had to dig deep to make the bridge up to him and Tom Bain, but when I finally made contact, there was a pretty big gap between us and the field. David said something about this break not working out quite the way he had planned! He was sandwiched between two sprinters in a half-hour criterium with a hot spot and finish bonuses still in play. His strategy, of course, was to attack, attack, attack in order to try and drop the weakest rider and put some time on him before the finish. That weakest rider, of course, would be me! The lap before the hot spot, he attacked again (always of course immediately after I had taken a pull), and it wasn't easy to accelerate to stay in contact, but as we came around the final two turns before the hot spot sprint I found myself comfortably on Tom's wheel. Tom launched before the final turn on a slight downhill that lead into the reflector-infected corner and I hung onto his wheel like glue. As we straightened out I jumped hard to try and come around, and although I ultimately did, it was really only because Tom eased up and let me have it. Looking back, we could see that we had opened a dangerous gap on David going through the last turn, and we briefly contemplated trying to stay away, but at that point Tom didn't have any real need to do so since he definitely had first place on GC locked up. David, however, still had some time to try and drop me. If he could open a gap on me, Tom would have no choice to go with him and if I couldn't bridge back up, the two of them would only need to put maybe five seconds on me by the finish to move David into second place on GC. Needless to say, I was strongly motivated to avoid being dropped. The pack was now too far behind to be a threat with so little time left.
David launched a number of attacks, the last one coming on a little uphill less than two laps before the finish. That one hurt, but I was able to stay in contact. With about half a lap to go Tom took the lead and jumped hard coming into the last turn. I was in great position on his wheel and came through the turn without losing an inch, but when I tried to jump around him into the headwind about 100 meters before the line, which deep down I knew was way too late anyway, I hit the wind and it felt like I was going backwards! I ended up crossing the line behind him with David some distance back. So anyway, I was surprised that I was able to end up in 2nd place on GC.
"Ain't bike racin' fun?" --- Jim Bergin.
Mark rode in with the pack, finishing in 11th place. In other races, Sam was looking pretty good in the Cat. 4 race after the road race after an impressive 3rd place finish but the time trial cost him a lot of places. Then, in the criterium, the Cat. 4s were very aggressive and the crosswind ended up causing a big split that he, Ed, and Wes all ended up on the wrong side of. The 35+ race looked to be really competitive. Keith was mainly focused on the road race and criterium, although he missed the key split in the criterium and finished 18th.